3d Model viewing Software 
Model Review
Made Simple
SDS2 MODEL REVIEW
SDS2 Model Review is a comprehensive solution for reviewing and validating 3D models created in SDS2 Detailing. Try SDS2 Model Review now and experience the difference.
live, visual feedback on design reviews
Despite the prominence of 3D models and digitalized workflows in structural steel design, detailing, and fabrication, reviews and approvals have remained largely a 2D activity—but that is starting to change. With SDS2 Model Review, you can use model-based review and feedback tools to communicate with stakeholders live within the complete, visual context of the 3D model.
shorten review and approval timelines
SDS2 Model Review provides advanced tools for reviewing and validating 3D models created in SDS2. In SDS2's cloud-based model review environment, users can communicate notes, review statuses, and change orders in real time. With these tools, steel detailers, fabricators, and engineers can validate their models and design changes faster, reduce errors, and improve overall quality.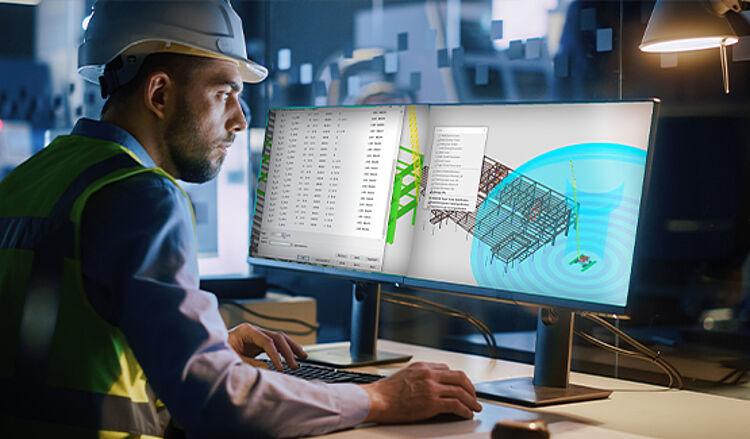 Collaborate smarter with live model data
Provide easy and secure access to your 3D model to any stakeholders, from detailers and checkers to the fabricator, engineer, and general contractor. The software provides a centralized platform for sharing feedback, communicating statuses, and coordinating activities—and with live, multi-user capabilities, you'll always be in-sync with the entire project team.
"SDS2 is an all-encompassing program. We use it for everything we do—estimating, detailing, BIM, fabrication, connection design, feeding our automated shop equipment."
PVS Structures
"SDS2 is a fantastic program for a small department such as ours. We have a small staff (2-3 detailers at any given time) and this has allowed us to utilize our limited resources to the greatest extent possible."
Corey Juden, Anderson Steel Supply, Inc.
"Every release gets better. With tools that are being added, it increases speed each time. We are a small company, but on big jobs it has helped a lot."
Donald Kelly, Interstate Steel Corporation
sds2 model review Features
Condense all the information you need for reviews to one convenient screen.
Review complete connection calculations and reports alongside the 3D model.
Track your review process and color-code the model to visualize status displays.
Model color-coding helps teams see review progress in the context of the 3D model.
Attach comments, sketches, and RFIs to specific points in the model for review in context. 
Communicate reviewed submittals back to the detailer's model. 
SDS2 offers several tools to quickly and easily check dimensions in the model. 
Shorten the RFI process by sharing the snippets of the SDS2 model in a PDF. 
Quickly document revision information, model status, and more with every submittal.
everything you need to get the job done